Revit Families, Object Design System ---
(23) Floors (system Family)

Floors opbygges i Revit ved at definere et omfang af det pågældende Floor-element, gennem enten en skitse (i sketch-mode) eller ved at udvælge omkringliggende / afgrændsende Walls. Dette udføres typisk i plan-view.

Floor-elementets tykkelse vokser nedad, i relation til det plan omfangs-skitsen udføres i.

Det er muligt at lave Floors med hældning og Floors med lagopbygning, i samme stil som med Wall-definitionerne. Alle lagene kan tilknyttes materialer, i stil med rammerne omkring opbygning af Walls (se andetsteds, i nærværende publikation). Yderligere, kan der defineres hældning på specifikke gulvtyper, i grader.

Der er forskel på "Structural Floors" og "Floors", i de tilknyttede properties. "Structural Floors" har, bl.a., properties i tilknytning til armering, hvor de regulære "Architectural Floors" har de kendte, standardiserede properties.

[...]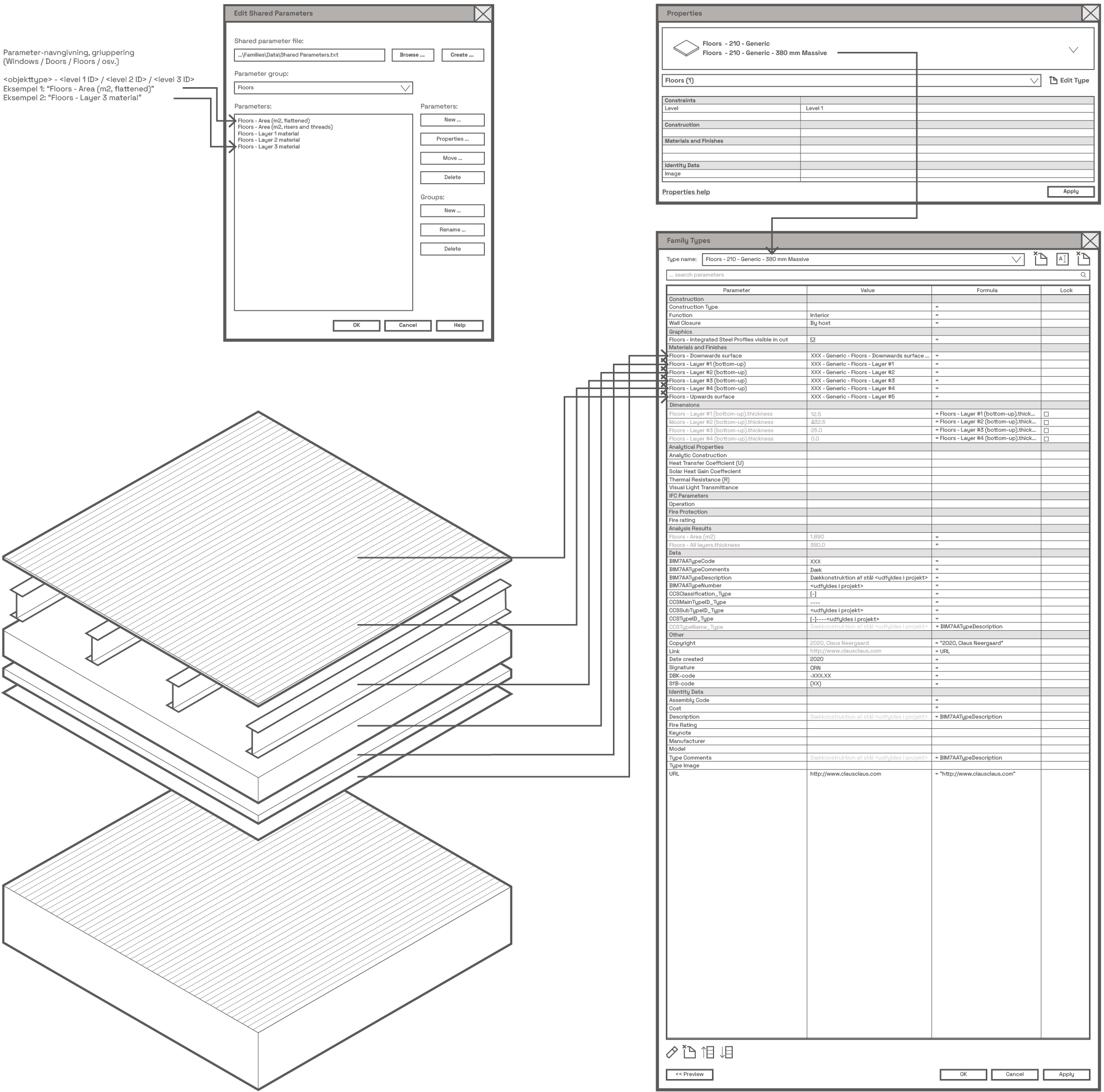 <GROUPING>.<FLOORS>

<parameter>.<type>.<formula>.<lock>.<project param/family param/shared param/global param>.<nested parameter fra nested family>

<GRAPHICS>

<"Floors - Bottom plate visible">.<yes/no>.<none>.<no>.<project param/family param/shared param/global param>.<no>

<"Floors - Frame visible">.<yes/no>.<none>.<no>.<project param/family param/shared param/global param>.<no>

<MATERIALS AND FINISHES>

<"Floors - Bottom plate material">.<pull-down>.<none>.<no>.<project param/family param/shared param/global param>.<no>

<"Floors - Frame material">.<pull-down>.<none>.<no>.<project param/family param/shared param/global param>.<no>

<"Floors - Glass material">.<pull-down>.<none>.<no>.<project param/family param/shared param/global param>.<no>

<ENERGY ANALYSIS>

<"Production / Extraction of raw materials">.<>.<string>.<none>.<no>.<project param/family param/shared param/global param>.<no>

<"Production / Transportation to production">.<>.<string>.<none>.<no>.<project param/family param/shared param/global param>.<no>

<"Production / Material production">.<>.<string>.<none>.<no>.<project param/family param/shared param/global param>.<no>

<"Construction / Transportion to site">.<>.<string>.<none>.<no>.<project param/family param/shared param/global param>.<no>

<"Construction / Installation">.<>.<string>.<none>.<no>.<project param/family param/shared param/global param>.<no>

<"Usage / Operation and maintenance">.<>.<string>.<none>.<no>.<project param/family param/shared param/global param>.<no>

<"Usage / Replacement">.<>.<string>.<none>.<no>.<project param/family param/shared param/global param>.<no>

<"Usage / Conversion">.<>.<string>.<none>.<no>.<project param/family param/shared param/global param>.<no>

<"Usage / Energy for Building maintenance">.<>.<string>.<none>.<no>.<project param/family param/shared param/global param>.<no>

<"Usage / Water usage">.<>.<string>.<none>.<no>.<project param/family param/shared param/global param>.<no>

<"End-of-Life / Demolition">.<>.<string>.<none>.<no>.<project param/family param/shared param/global param>.<no>

<"End-of-Life / Transportation for waste management">.<>.<string>.<none>.<no>.<project param/family param/shared param/global param>.<no>

<"End-of-Life / Waste management">.<>.<string>.<none>.<no>.<project param/family param/shared param/global param>.<no>

<"End-of-Life / Disposal">.<>.<string>.<none>.<no>.<project param/family param/shared param/global param>.<no>

<"Next product system / Reuse-/recycle-portential">.<>.<string>.<none>.<no>.<project param/family param/shared param/global param>.<no>

<"Environmental impact / Greenhouse effect">.<>.<string>.<none>.<no>.<project param/family param/shared param/global param>.<no>

<"Environemntal impact / Deplation of Ozone layer">.<>.<string>.<none>.<no>.<project param/family param/shared param/global param>.<no>

<"Environmental impact / Photochemical Ozone creation">.<>.<string>.<none>.<no>.<project param/family param/shared param/global param>.<no>

<"Environmental impact / Acidification">.<>.<string>.<none>.<no>.<project param/family param/shared param/global param>.<no>

<"Environmental impact / Nutrient load">.<>.<string>.<none>.<no>.<project param/family param/shared param/global param>.<no>

<"Resource consumption category / Total primary energy consumption">.<>.<string>.<none>.<no>.<project param/family param/shared param/global param>.<no>

<"Resource consumption category / Renewable primary energy consumption">.<>.<string>.<none>.<no>.<project param/family param/shared param/global param>.<no>

<DIMENSIONS>

<"Height">.<float>.<Rough Height - ([Doors - Join]).<no>.<project param/family param/shared param/global param>.<no>

<"Thickness">.<float>.<0 mm>.<no>.<project param/family param/shared param/global param>.<no>

<"Floors - Frame / offset">.<float>.<none>.<no>.<project param/family param/shared param/global param>.<no>

<"Floors - Frame / profile / width">.<float>.<none>.<no>.<project param/family param/shared param/global param>.<no>

<ANALYTICAL PROPERTIES>

<"Analytic Construction">.<>.<string>.<no>.<project param/family param/shared param/global param>.<no>

<"Heat Transfer Coeffecient (U)">.<>.<none>.<no>.<project param/family param/shared param/global param>.<no>

<"Solar Heat Gain Coeffecient">.<>.<none>.<no>.<project param/family param/shared param/global param>.<no>

<"Thermal Resistance (R)">.<>.<none>.<no>.<project param/family param/shared param/global param>.<no>

<"Visual Light Transmittance">.<>.<none>.<no>.<project param/family param/shared param/global param>.<no>

<IFC PARAMETERS>

<"Operation">.<>.<string>.<none>.<no>.<project param/family param/shared param/global param>.<no>

<FIRE PROTECTION>

<"Fire rating">.<>.<string>.<none>.<no>.<project param/family param/shared param/global param>.<no>

<ANALYSIS RESULTS>

<"Floors - Area (m2)">.<float>.<(Rough Height * Rough Width)>.<no>.<project param/family param/shared param/global param>.<no>

<DATA>

<"BIM7AATypeCode">.<integer>.<none>.<no>.<project param/family param/shared param/global param>.<no>

<"BIM7AATypeComments">.<string>.<none>.<no>.<project param/family param/shared param/global param>.<no>

<"BIM7AATypeDescription">.<string>.<none>.<no>.<project param/family param/shared param/global param>.<no>

<"BIM7AATypeNumber">.<integer>.<none>.<no>.<project param/family param/shared param/global param>.<no>

<"CCSClassification_Type">.<string>.<none>.<no>.<project param/family param/shared param/global param>.<no>

<"CCSMainTypeID_Type">.<string>.<none>.<no>.<project param/family param/shared param/global param>.<no>

<"CCSSubTypeID_Type">.<string>.<none>.<no>.<project param/family param/shared param/global param>.<no>

<"CCSTypeID_Type">.<string>.<none>.<no>.<project param/family param/shared param/global param>.<no>

<"CCSTypeName_Type">.<string>.<none>.<no>.<project param/family param/shared param/global param>.<no>

<OTHER>

<"Copyright">.<string>.<="2020, Claus Neergaard">.<no>.<project param/family param/shared param/global param>.<no>

<"Link">.<URL>.<=URL>.<no>.<project param/family param/shared param/global param>.<no>

<"Date created">.<2020>.<none>.<no>.<project param/family param/shared param/global param>.<no>

<"Signature">.<CRN>.<none>.<no>.<project param/family param/shared param/global param>.<no>

<"DBK-code">.<-205.03>.<none>.<no>.<project param/family param/shared param/global param>.<no>

<"SfB-code">.<(32)>,<none>.<no>.<project param/family param/shared param/global param>.<no>

<IDENTITY DATA>

<"Assembly Code">.<>.<string>.<none>.<no>.<project param/family param/shared param/global param>.<no>

<"Cost">.<>.<integer>.<none>.<no>.<project param/family param/shared param/global param>.<no>

<"Description">.<"Pladedør <udfyldes i projekt>.<"=BIM7AATypeDescription">.<no>.<project param/family param/shared param/global param>.<no>

<"Fire Rating">.<>.<string>.<none>.<no>.<project param/family param/shared param/global param>.<no>

<"Keynote">.<>.<string>.<none>.<no>.<project param/family param/shared param/global param>.<no>

<"Manufacturer">.<>.<string>.<none>.<no>.<project param/family param/shared param/global param>.<no>

<"Model">.<>.<string>.<none>.<no>.<project param/family param/shared param/global param>.<no>

<"Type Comments">.<"Pladedør <udfyldes i projekt>">.<=BIM7AATypeDescription>.<no>.<project param/family param/shared param/global param>.<no>

<"Type Image">.<>.<none>.<no>.<project param/family param/shared param/global param>.<no>

<"URL">.<"http://www.clausclaus.com">.<="http://www.clausclaus.com">.<no>.<project param/family param/shared param/global param>.<no>




Definition from buildingSMART: A slab is a component of the construction that normally encloses a space vertically. The slab may provide the lower support (floor) or upper construction (roof slab) in any space in a building. It shall be noted, that only the core or constructional part of this construction is considered to be a slab. The upper finish (flooring, roofing) and the lower finish (ceiling, suspended ceiling) are considered to be coverings. A special type of slab is the landing, described as a floor section to which one or more stair flights or ramp flights connect. May or may not be adjacent to a building storey floor.

A slab may have openings, such as floor openings, or recesses. They are defined by an IfcOpeningElement attached to the slab using the inverse relationship HasOpenings pointing to IfcRelVoidsElement.

A particular usage type for the IfcSlab can be given (if type information is available) by referring to the type object IfcSlabType, using the IfcRelDefinesByType relationship, or (if only occurrence information is given) by using the PredefinedType attribute. Values of the enumeration are 'Floor' (the default), 'Roof', 'Landing', 'Baseslab', 'Notdefined'. If the value 'UserDefined' is chosen, the user defined value needs to be given at the attribute ObjectType.

HISTORY: New entity in IFC Release 2.0, it is a merger of the two previous entities IfcFloor, IfcRoofSlab, introduced in IFC Release 1.0

Type Use Definition

The IfcSlab defines the occuurence of any slab, common information about slab types (or styles) is handled by IfcSlabType. The IfcSlabType (if present) may establish the common type name, usage (or predefined) type, common set of properties, common material layer set, and common shape representations (using IfcRepresentationMap). The IfcSlabType is attached using the IfcRelDefinedByType.RelatingType objectified relationship and is accessible by the inverse IsDefinedBy attribute.

As an additional use agreement for standard slabs (i.e. slabs with constant thickness along the extrusion direction), the IfcSlabType should have a unique IfcMaterialLayerSet, that is referenced by the IfcMaterialLayerSetUsage assigned to all occurrences of this slab type.

Klik her, for at komme tilbage til oversigten, eller klik på følgende, for at se nærmere på de enkelte objekters data;

Revit Families: Walls (system Family)

Revit Families: Curtain Walls (system Family)

Revit Families: Stairs (system Family)

Revit Families: Railings (system Family)

Revit Families: Doors (loadable Family)

Revit Families: Windows (loadable Family)

Revit Families: Curtain Wall Panels (loadable Family)

Revit Families: Furniture (loadable Family)

Revit Families: Detail Components (loadable Family)